As fashion experts set new trends to follow in 2019, get on board with new and refreshing styles to stay ahead of the fashion game this year. From trending kurtas to head-turning lehengas for the wedding season, keep your style a notch up. Take cues from stylists at an online luxury fashion store — Pernia's Pop-Up Shop – for fresh new picks and ace every appearance.
Silhouettes
Suits
Suit separates have made a comeback and are a super-hot trend. They have a contemporary look now, without looking stuffy. Luxe suits give you the perfect ultimate girl boss look for the new year. Pair your sharp suits with bold graphic tees for a casual or unexpected look. This will also help you achieve a perfectly balanced outfit and not look outdated.
Shorts
Shorts have stolen the show this year. Go for tailored, micro or knee-length, whatever you may be comfortable in. Give your skirts a break for the next few months and for your summer go-to, choose loose and uber stylish shorts.
Fabric
Linen and Khadi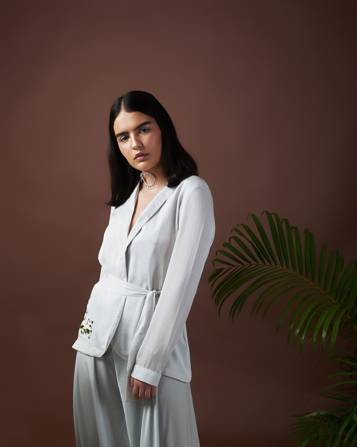 Top designers have rediscovered the beauty of our heritage fabrics. Natural fabrics have been catching a lot of eyeballs in the fashion world. Designers now offer dhoti pants, straight pants, kurtas, crop tops, capes, jackets and more done in soft pastel shades and neutrals. Let's not allow the scorching heat stop us from putting our best foot forward. Make a summer style statement with these light fabrics.
Colours
Earthy tones
One of the standout hues of the season is one of the subtlest and most down to earth. Connoisseurs are seemingly inclined towards the camel skin colour to define the summers. Competing for the shoulder to shoulder with coral and sunshine hues, the inviting beige spells summer sophistication. Head-to-toe is how the style mavens recommend rocking the trend for the summers, often in simple, demure silhouettes rendered in equally soft colours like oatmeal, biscuit, blush and off-white. In basic terms, we are looking at a spectrum of beige, but in fashion terms, that is one of the chicest apparel a girl can wear. This colour palette looks grown-up, sophisticated and expensive, even if you cannot invest in the looks pictured here.
The spicy living coral
We admit we are already stricken by its fancy. Certain to win several glances, the tangy hue can be rocked for every daytime occasion to make a statement. Envision the colour with everything from shimmers to dramatic ruffles as well as romantic monotones.